Wonder what's common among Successful people?
They all read and they read a lot!
Bill Gates reads 50 books a year. Mark Cuban reads for more than 3 hours every day. And, when Elon Musk was asked how he learned to build rockets, he simply said, "I read books."
You like this person or not but Mark Zuckerberg, who himself created the biggest social media, reads books. He also challenges himself and reads at least 50 books a year. He simply says say that reading is integral to his success. He reads a variety of Genre so as to increase his knowledge and horizons about the world. That's where they get new ideas about business and the things that are left to change in the world.
Is this a coincidence? Nope.
Tom Corley, the author of Rich Habits: The Daily Success Habits of Wealthy Individuals, studied the role that reading plays in success. His findings suggests wealthy people (defined as those with an annual income of $160,000 or more, and a liquid net worth of $3.2 million-plus) read for education, self-improvement, and success.
But, on the other hand, poorer people (defined as those with an annual income of $35,000 or less, and a liquid net worth of $5,000 or less) read primarily to be entertained.
This finding shook me to beneath!
These type of books for entrepreneurs are powerful!
But, to tap into this power, you have to implement what's written in these books.
Most people read dozens of books every year and still complain about nothing being changing with them, this is simply due to lack of execution.
If you executed what's written in a single book, you would never need another book.
That's what a great leader said "Planning is simple, execution is hard".
In this article, we  have shared the best 11 books for entrepreneurs that will surely help them succeed and change the world with their crazy idea!
Hold on till the end.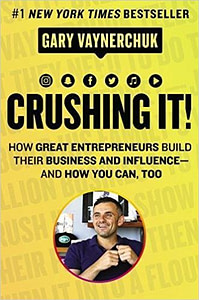 Gary Vaynerchuk most commonly known as Gary-Vee is  a four-time New York Times bestselling author. He has turned up the heat with his latest book, Crushing It!
He had already another book, Crush it, in 2009 and shouldn't be confused with "Crushing it"
In this book for entrepreneurs, he showcases new lessons, advice, tactics, and strategies derived from his own experiences, and also from many other powerful influencers and entrepreneurs.
All these successful entrepreneurs left their traditional 9-5 life.
And instead, they built businesses on their own terms to be able to live a happier , healthier and financially better life.
In inspiring book, GaryVee elaborates every major social media platform and teaches you how to use it to increase your brand awareness and grow your business online.
So, if you're looking for actionable advice on how to build an impactful brand on social media like Facebook, Twitter, YouTube, Instagram, and Snapchat, this book is for you.
In my opinion, almost every business these days needs a solid social media plan.
You can no way not leverage the power of social media.
But, this isn't just about your brand's success on social media.
This is about living your life on your own terms.
Buy here: Amazon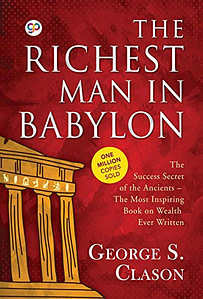 The book is set into the past and tells a story set in Babylon, a place in ancient times. It's a story with lessons in it, like the Bible.
In this book a young man asks a rich person to mentor him. This rich man slowly teaches him the rules to wealth creation, which are timeless and that anyone can apply.
But you might be wondering what all this has to do with modern life and business?
Well, here are the things which anyone can take from this book and apply to become successful and rich.
Always save and invest 10% of what you earn with people and businesses that are skilled at their craft so you earn more money.
Make sure every dollar you make works for you to earn you more money, not less. Remember every dollar is a worker that works for you.
Despite the old age words, it's pretty easy to tell what the main message author coneys in the book and it does work together with the story to set the mood and setting.
You have to sometimes read again and again to get the lesson from the fable.
Buy here: Amazon
This is pretty amazing  and unique book out of all. It basically tells you, when you get inspired by Mark Zuckerberg and create another five companies like facebook then you go from 1 to n.
But when you create something unique that did not exist before and world never thought they needed it, you are going from zero to one.
This book is all about inspiring you to think out of the box, create something unique. As you have always heard, unsolved problems are a great opportunity to create a business.
The author, Peter Thiel, is a billionaire entrepreneur who had created Paypal in 1998 as a way to create an alternative to the dollar. He is now a venture capitalist and an author who has taught a class on entrepreneurship at Stanford. Peter Thiel was the first outside investor in Facebook.
The author of the book "Zero to One" tells you four points about  a great idea/company:
They are bold ideas and not about taking baby steps and making incremental progress.
The founder has a clear plan. A wrong plan is better than no plan. See how you can leverage technology.
Try to create a small monopoly. That is where profits lie. But never declare yourself as one.
Product is important but so is Sales. Nerds often do not get this when they come up with a great product – someone has to sell it.
He also emphasized on the fact that there is no such thing as luck. It is all about skills and a great team. A lone genius cannot create a startup, you need help.
Peter Thiel, the author, asked seven questions that he thinks every start-up must answer:
Can you create breakthrough technology that is at least 10x better?
Is now the right time to start your business?
Are you starting with a big share of a small market? Think monopoly.
Do you have the right team?
Do you have a way to not just create but to deliver your product?
Will your market position be defensible 10 or 20 years into the future?
Have you identified a unique opportunity that others don't see?
Buy here: Amazon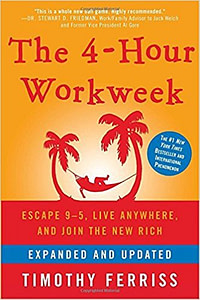 The Four Hour Work Week is another great book in the list of books for entrepreneurs.
The book has sold over 1.3 million copies and been translated into 35 languages, this business book held a spot on The New York Times bestseller list for over seven years.
Enough praising!
This great business book is often referred as "The Bible of Lifestyle Design," Ferriss shows you how to live more and work less.
That sounds great right?
This business book constantly challenges conventional thought and think out of box, again!
To always test commonly held views, and push the boundaries further than you ever knew was possible.
Tim Ferris will also show you how you should forget the outdated concept of a working life, followed by retirement.
This book for entrepreneurs is pretty much about productivity and effectiveness, its covers the topics such as outsourcing, prioritizing and automation.
Whatever you want to accomplish as an entrepreneur, this business book a great set of tools and tips to conquer what is meant for you.
Buy here: Amazon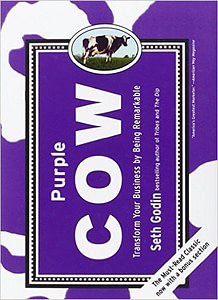 This is another bestselling book for entrepreneurs that comes from multi-bestselling author and also touted as marketing guru Seth Godin.
In his book Purple Cow, Godin demonstrates how the traditional P's of marketing (product, price, promotion, place, etc.) don't work anymore, like they used to.
Why?
Because there's a new 'P' that's now more important: the 'Purple Cow'.
A 'purple cow' is Godin's metaphor for something phenomenal, counterintuitive and different.
Cows are boring after you've seen a few. But a Purple Cow? Now, it is something that would grab everyone's attention.
This book for entrepreneurs tells you how, in today's market, your business is either remarkable or invisible.
And in this book, you'll learn why being safe is dangerous, and why being good is actually bad.
To grow, every new entrepreneur needs to understand how to stand out from their competitors and this book tells you the same.
Buy here: Amazon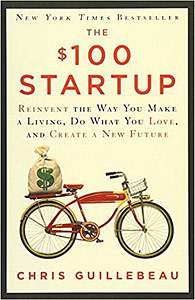 Chris Guillebeau had a major accomplishment, he had a dream of a world tour and his goal of visiting all 193 countries in the world came to reality In 2013.
What's amazing? He's never had a 'real job' or earned a regular paycheck. Instead, he found ways to turn ideas into income to support his life of adventure.
In his book, $100 Startup, Chris Guillebeau strikes the fact that you don't need a lot of money to start a successful business.
This book for entrepreneurs features a lot of case studies of people (at least 50 to be exact) who have built businesses earning $50,000 or more from a small investment as low as $100.
And, most of these people had no special skills to begin with, but discovered aspects of their personal passions that could be monetized easily.
The book dives deep as well. You'll find out exactly how much each entrepreneur had to invest to get started, and what they did in the first weeks and months to gain traction in their business.
Bottom-line?
This book is really helpful, it will help you in merging your passion and skills with money. This book is a must read for entrepreneurs!
Buy here: Amazon
Also read: These 10 Best Self-Help Books Will Make You Rich and Successful!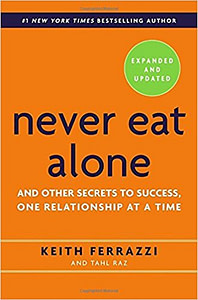 Ferrazzi had a very humble beginnings, but now his network of relationships stretches from Hollywood's A-list to Washington's powerful leaders.
In this must read book for entrepreneurs, Ferrazzi demonstrates the power of network and relationships in business. Additionally, he lays out the mindset, and the steps he uses to connect with thousands of people.
You can think of Never Eat Alone as a modern version of, 'How to Win Friends and Influence People.'
This amazing book also shows the timeless strategies used by some of the world's most connected people, such as Bill Clinton, Winston Churchil and the Dalai Lama.
It also presents you a set of proven principles and actionable strategies that you can use to further enhance your career and happiness.
Since the book was originally released in 2005, it also has a new edition that also includes in-depth advice for making connections in the world of social media.
In a nutshell, Keith Ferrazzi tells you how to grow your success by consistently reaching out to other people and create amazing relationships where everyone wins.
Buy here: Amazon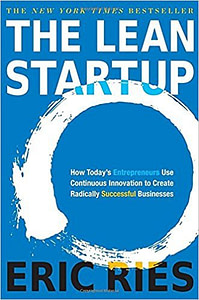 Eric Ries is the founder of the Lean Startup revolution.
And in this amazing book, he shows how an entrepreneurs can bootstrap a business, gain traction, and keep it lean for maximum results.
Constant digital innovation means that businesses need to continuously adapt and learn or, they'll be outpaced and left in the dust.
Eric Ries says that "the only way to win is to learn faster than anyone else."
This book for entrepreneurs is created around taking action, constantly testing, relentlessly adapt to what works and leave what doesn't.
And in this worthy book, Ries provides an innovative, practical approach for becoming a more adaptable and evolving company.
The Lean Startup also offers a heck lot of case studies that demonstrate the principles that Rie has taught within.
This business book is particularly good if you're prone to overplanning and preparing while putting off the inevitable action needed to make progress.
So, whether you want to create a scrappy startup, a small business, or a corporate machine, this book is just for you.
Buy here: Amazon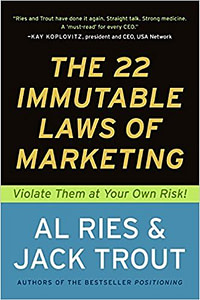 It is true indeed that If you build an airplane but ignore the laws of physics, it will never fly.
So it also goes with the laws of marketing, if you want to build a successful brand.
In this awesome classic, world-renowned marketing guru Al Ries and Jack Trout explains The 22 Immutable Laws of Marketing.
These include the Law of the Mind; "It's better to be first in the mind, than to be first in the marketplace." And, the Law of Leadership: "It's better to be first than it is to be better."
What's amazing, this great entrepreneurship book is full of useful case studies to illustrate each law.
So, you can read this business book to increase your knowledge of business and  marketing. This will help you to make sure that your marketing efforts stick to these immutable laws.
After all, planning ahead is better than starting again.
Buy here: Amazon
As you already know, most business books tell you the same thing that is study up, write a business plan, pitch investors etc…etc.
But, this New York Time's best-selling book destroys all the traditional advice and challenges mainstream mindset and business culture.
And then, again, it tells you think out of the box. This book provides a whole new way of thinking.
easy to digest delivery and ideology, this business book—Rework tells you that you need far less than you think to start a successful business.
You don't need an office. You don't need to be a workaholic. You don't need more staff or investors. You don't even need meetings to create a successful brand.
What you need is to prioritize what's important. In short, no more thinking, no more talking, researching, and planning and start doing.
You'll also learn a whole new different outside the box approach. It tells you why plans are harmful, outside investors are unnecessary, and ignoring the competition is great.
Overall, this playbook is full of counterintuitive, revolutionary ideas that will surely blow your mind.
This business book is presented in strong bite-sized chapters that shows you a better, faster, and easier way to succeed in modern business.
So, whatever your entrepreneurial dreams are, this book is surely going to help make them a reality.
Buy here: Amazon
Conclusion……
Entrepreneurship is no kids game, it takes a lot of courage, sleepless nights, hardwork and dedication to succeed as an entrepreneur. These books will help you learn from the world's best business owners and mentors and to get there.
The journey to a successful startup or a business is quite challenging yet exciting at the same time. If you have the zeal and never give up attitude, you will definitely succeed.
Pick one book at a time, don't read it in a day or two. Read chapter by chapter and try to implement the lessons learnt practically into your life or business. When you think you have done implementing everything only then move to the next chapter. This is the best way possible to read and learn from books.
Don't get excited about billionaires reading a book every 2 week, they are already billionaires. You have to learn things and execute them in your life and that happens overtime. Rome wasn't built in a day, sounds familiar?
Note: If they can do it you can do it as well!
Also, Don't forget to bookmark (CTRL+D) this page for future reference!
Suggested Posts: