Granny cool
This is not a drill!
and I am writing again "these steps are so damn easy that even your Grandma can make her own website!" just like my granny did.
So below are the exact conversation between me and my grandma and the steps that my grandma followed and created her own website!
Guess what she is — Freelance web designer!
But first, you need to have a clear mental picture of my Grandma.
Here are the top 5 cool things about my Granny:
She's thug, badass and boss granny!
She's always curious to learn new things!
She's always high in spirits, never tired!
She's a geek and love tech!
She forgives and forgets easily!
Top 6 cool things about me:
I love dance music and going to music festivals.
I am a tech geek and gadgets are my life.
I am fascinated by Europe and dream to live there.
Range Rover is my dream car!
I am Tea-o-holic if that's a term!
Let's jump straight into the article!
Grandma: what is Domain & hosting?
Me: suppose you want to buy a property on the internet. So, domain is like your property address and hosting is your property on the internet and yes they not free. You have to buy both. 
Grandma: some websites say they provide free domain, hosting!
Me: yes, some will say "have my property for free" but it is not actually free, you live there you take care of it and the original person will advertise his or her ads to the people that will come to you. This annoys both — you and your people. So it is not actually free!
Gr: so what do we do? Buy a domain hosting?
Me: yes, obviously!
Gr: then, let's do this!
Me: okay, so we are choosing Bluehost since it is very easy to setup and offers one click installation of wordpress and also it is official trusted partner of WordPress!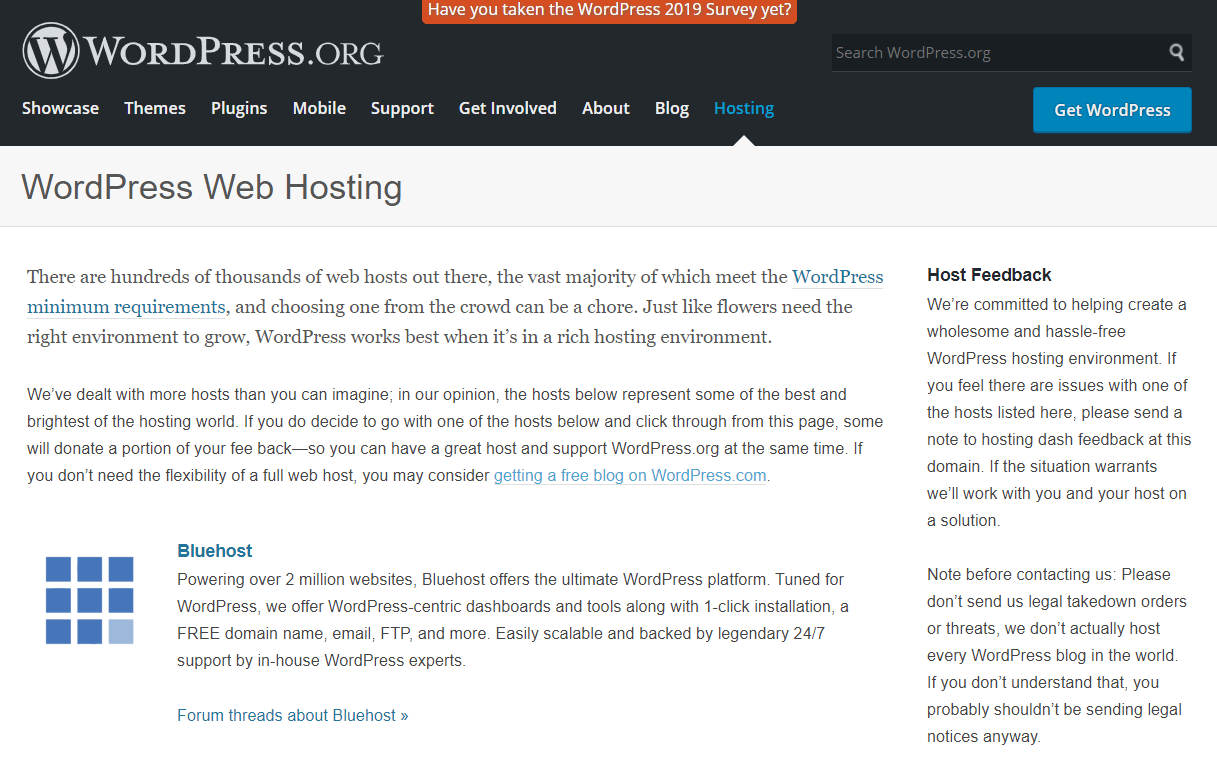 Lets go to Bluehost website by clicking here!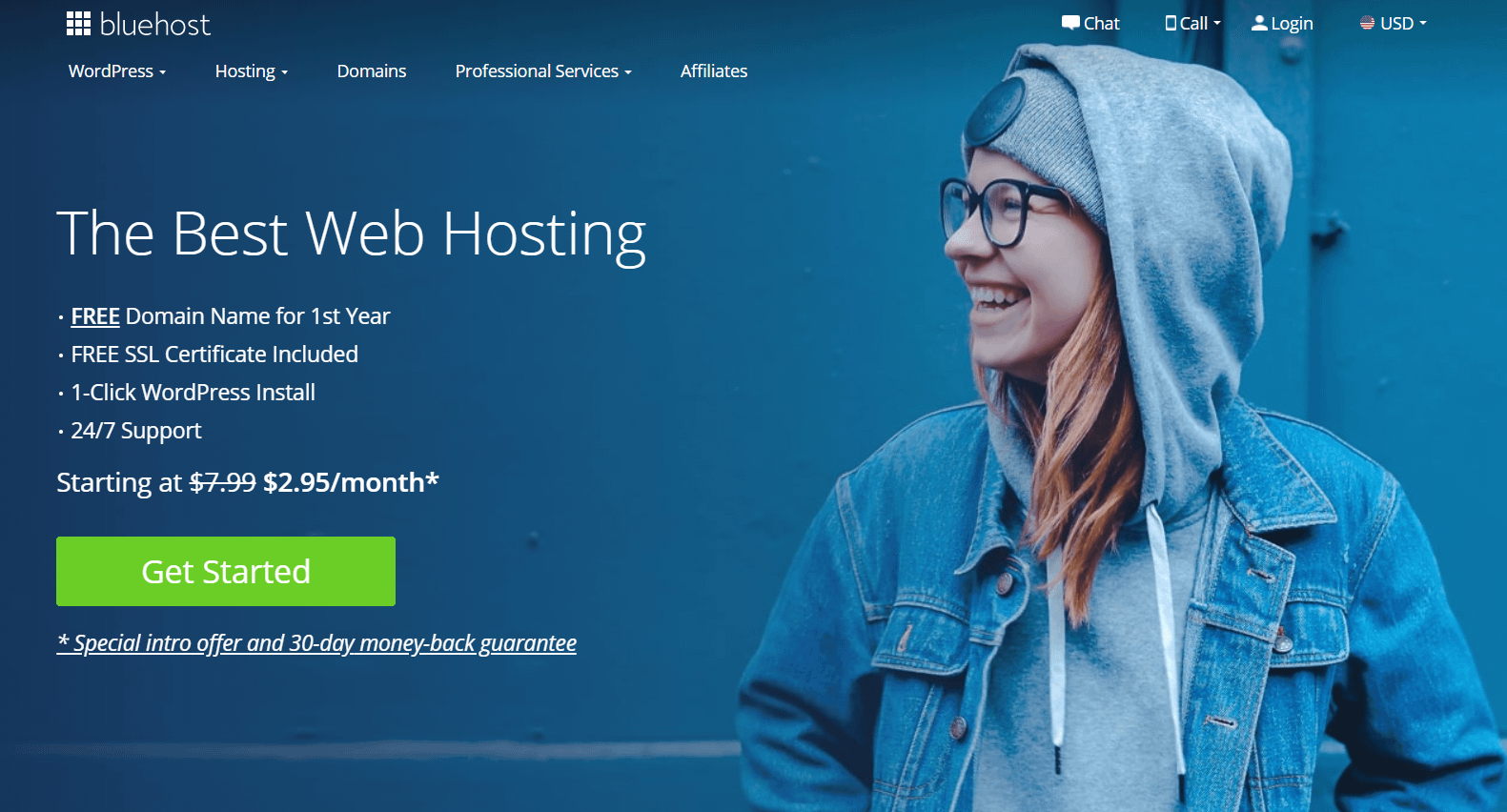 Now, Click on get started! 
Don't have time to read it all? Download pdf version of this post!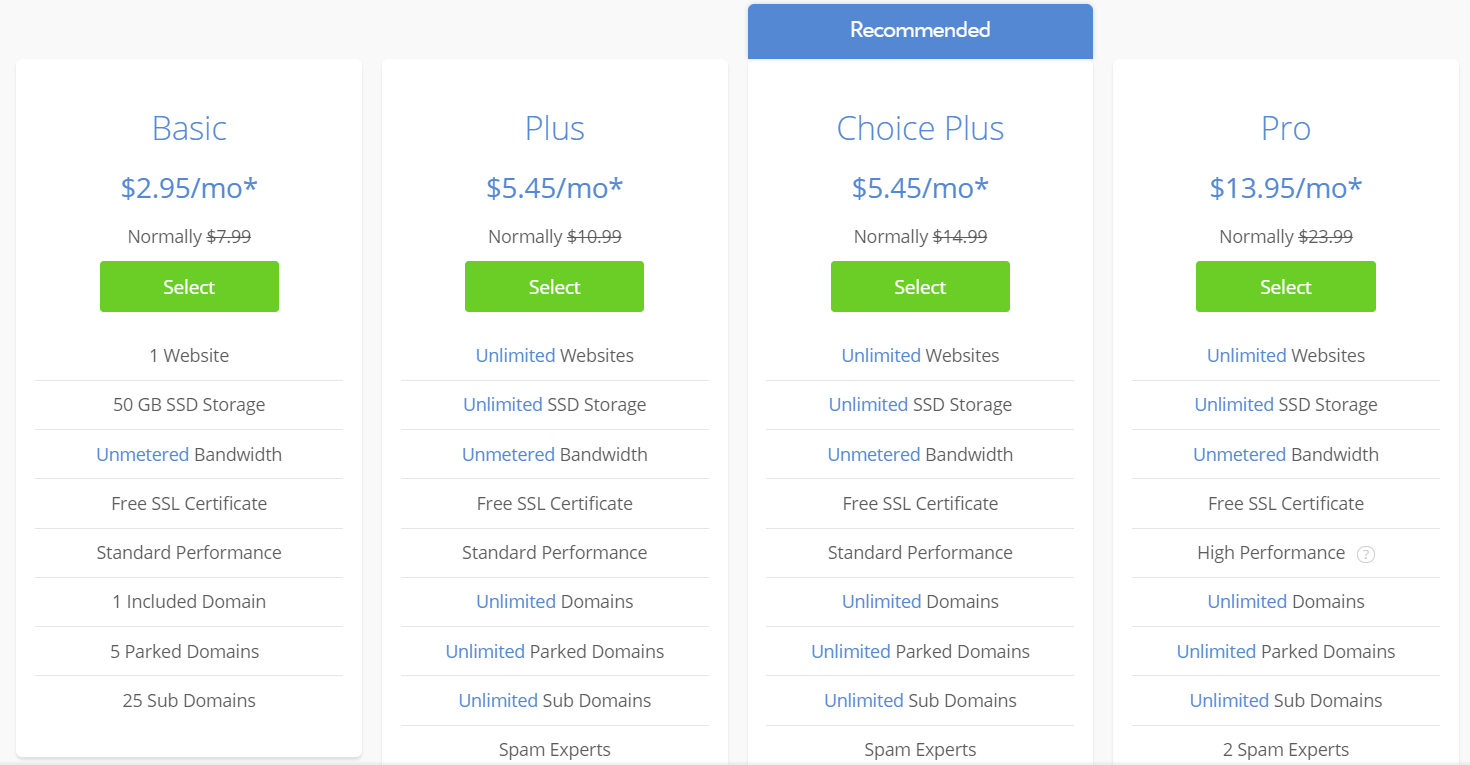 Let's go with basic one in the extreme left!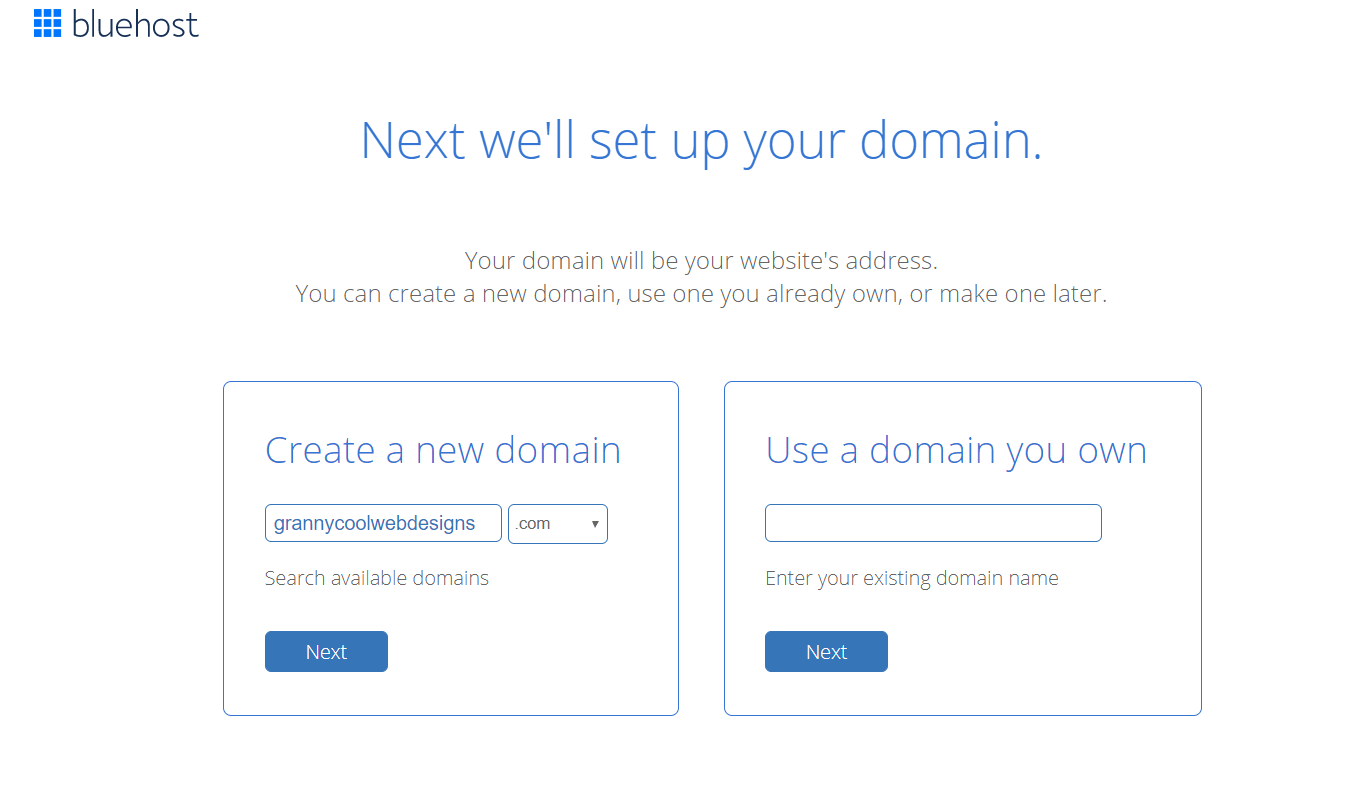 Type in your domain name, it will be free and hit next!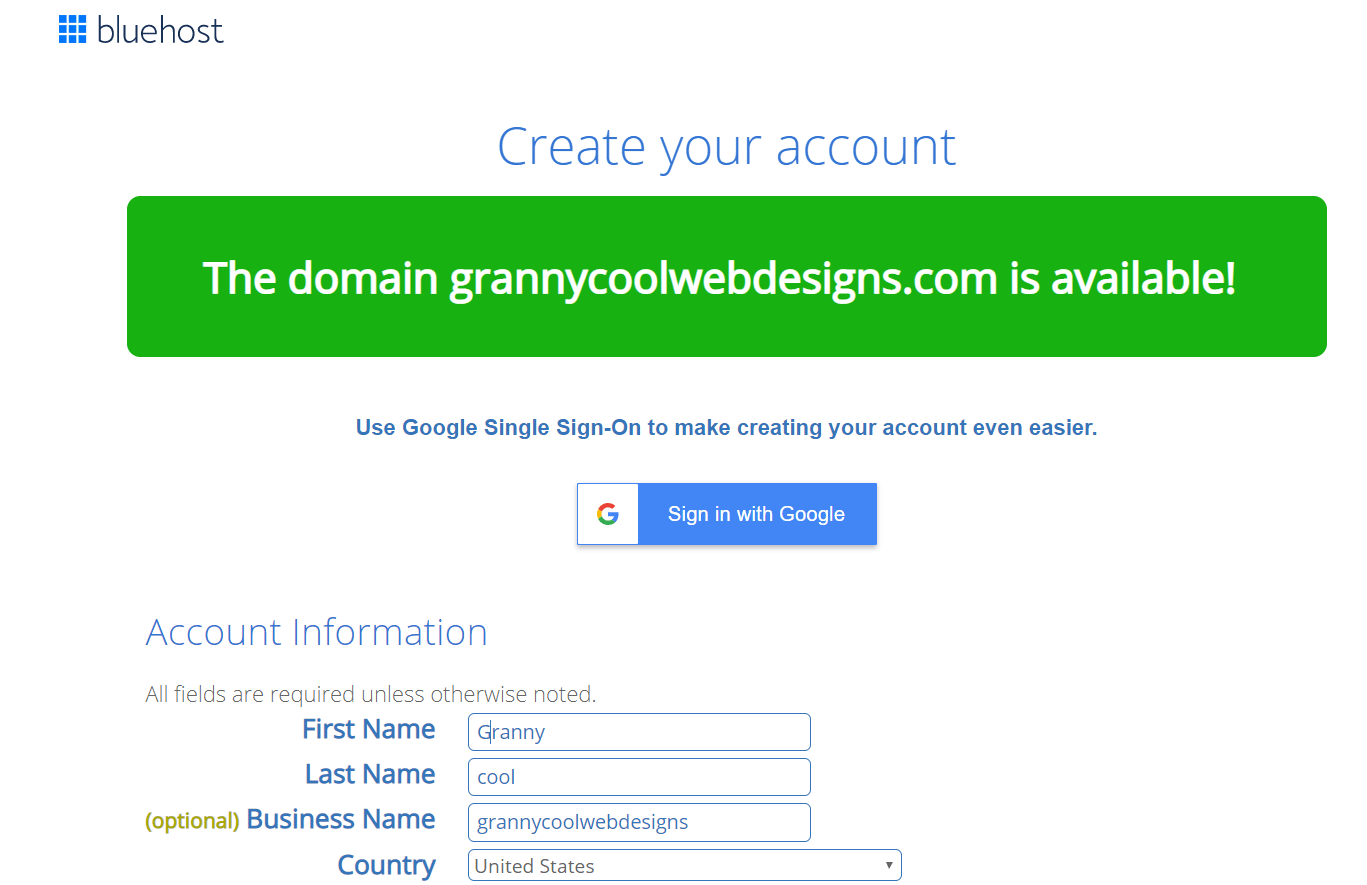 Type in all details and features you need. 
Here is an amazing trick to get even more discount, go to close tab button and a pop-up will appear with some extra discount! It was $2.95 and now its $2.65 per month. How cool is this?
Click on claim savings and boom it's even cheaper now!
By default, it's set to 36 months plan so make sure to choose the one which suits you. The longer the plan the heavier the discount!
Let's go with 1-year plan and important features ticked.
Okay, let me take out my credit card. Add payment details and hit submit. 
Once your sign up is completed, you will be asked to create your password that will allow you to login to your bluehost account. 
At the end of this process, you will get confirmation and you will be able to log in to your website backend. Hurray you have bought your first domain and hosting and you are now ready to make your website.
*Granny smiles*
Me: How was this? Overwhelming?
Gr: No, it was easier than I thought!
Oh, and I forgot to tell you! (yes you, the reader!)
This is me!
And I am single……
Don't have time to read it all? Download pdf version of this post!
Step 2

: Basic Setup and One Click WordPress Installation
Grandma: What is a WordPress?
Me: WordPress like brick and mortar for your website, it supports the website its the structure of a website. With the help of wordpress you can easily manage websites and make changes to it without learning to code.
Gr: Oh, I see, I can learn to code as well, I love learning new skills.
Me: You don't even remember where you put your glasses how would you remember tons of code?
Grandma gives me a steep look…
Lets login with your credential you have created earlier.
Now you have to follow 2 simple steps to finish up the WordPress installation and basic setup of your website. You will be asked to write a site name and site tagline. Just enter that information then click next.
Tick the type of your site you are creating!
Now it will ask you to pick up a WordPress theme. Skip this step "Granny" we will use a better theme later on!
And now wordpress will install on your website!
Enter into your website by clicking on "Start Building".
So, finally, this is your WordPress website backend, this is the place from where you can make changes to your website!
Don't have time to read it all? Download pdf version of this page!
Step 3

: Change/Add a New Theme
Since we had not pick a theme earlier, we will choose a professional theme now. 
Click on the Dashboard on left control pane then go to Appearance> Themes.
Click on the Add New Theme. Go to search and type "Astra". This is the best free and fastest WP theme. This professional theme is free to use, though it also has a Paid version as well which offers a lot more features, beautiful website templates, and customizations! Check out the Astra website to know more about the theme features!
When you hover the mouse pointer over a theme, install option will appear. Click on install button.
And then activate button will appear click on that to activate the theme. 
Congrats your new theme is active!!!
Step 4

: Import a premade website template
Me: now go to plugins.
Gr: wait, plugins what? 
Me: Plugins are small tools that help in building website and adding extra features to it, just like 
we have little appliances in the house after furnishing to make life easier. 
Gr: okay.
Now click on add new
Gr: done.
Now search for "Astra starter sites", install it and activate.
after that search for Elementor and click install it and activate it.
Go to "Appearance>Astra starter sites"
Click on "Elementor" and hit "next"
Me: From this screen, you can choose a template from a variety of them.
Granny: I like this one! (Paid template)
Me: That comes with a pro plan, when you pay for the theme only then you will get access to it, as well a lot other premium features.
Granny: Oh, so which one to choose?
Let's choose this one, just click on "import site" button and now wait for template to install.
Gr: ok but I will need "Astra Premium" in future so be prepared!
Me: okay, so let's choose this one! And now click install!
Me: Ok, done. see your website.
Gr: This is not mine, this is some "Cristina Jones's" website.
Me: we will edit over this and make it truly yours, okay?
Gr: thats sounds great!
Step 5:

Using

page builder plugin (

Elementor

) to edit website
Me: let's edit home page with Elementor.
Gr: I will do it.
Me: why not? Let me just introduce you to it.
Open any page you would want to edit, go to the top and Click on the "edit with Elementor" button and next you will have editing screen. You can now click on any text to edit, click on any image to change. And there you go!
Gr: but what actually Elementor is?
Me: The Elementor is a web page builder plugin which helps you create amazing web pages without even learning to code. It's drag and drop feature which lets you create amazing things in a web page easily. 
This pane on the left side is your tools and options which you can drag and drop on the canvas to add things to the websites such as buttons, forms, images, paragraph and different other sections. You can also change the color, size and fonts of texts. Whatever you do in the front-end, the Elementor page builder will print the code according to it in the background without you even knowing how to code!
Once done editing page hit update and your site will be updated.
Gr: now leave it one me and you can go do some other work.
Me: what work? I am on leave. I don't have any work, Do I?
Gr: Oh, I forgot but you go and bring some groceries while I edit this whole goddamn thing.
Me: it will be complicated, you would need my help!
Gr: No its simple, I can do it, just that I need a little peace to concentrate.
Me: 
Few hours later…………..
Me: Hey Granny! Good evening, you didn't show me your website? How is it?
Gr: Oh yeah, I received almost 49 comments on facebook. See this …!
She showed her facebook post with the website link shared on it….
Me: ahahhaha……. Lets look at your website.
Granny opens up her a decade old Toshiba laptop. Old but still shining brighter than my Macbook Air!
Granny types her domain URL into google search and finds nothing!
Me: no granny, you should place your URL in search bar.
Gr: oh, I forget. Let me type again.
Me: hahaha… this is ridiculous! Hahaha…
Granny slaps my back
Gr: shut up idiot, all my friends like it, I received 150 likes and 49 comments on Facebook and you're the first one saying this is ridiculous!
Me: that's okay but this is 2020 not 1990s, everything has changed and your website looks old school "html websites" as if you designed it on "MS Paint" even though its on "wordpress". 
Let me create you a better one.
Gr: okay, let's see how you do it.
Step 6

: Using a premium

DIVI theme
So then I created my Granny's website with my own method, I used a premium Divi theme that I use on my client websites. The simple intuitive drag and drop builder of Divi makes everything easier, amazing and hassle-free to do. 
Divi theme is suitable for both technical and non-techie people. Non-techie people can create a website with a template (they have many fabulous pre-made websites to choose from) and for tech-savvy people like me, they can create pretty advanced mesmerizing and alienist websites using Divi in a couple of days.
Look at this beauty!!!
Me: hey granny how is this? Looks cool?
Gr: hell yeah, you made my day and now my website game is fire. If my friends ask me to create a website for them, I'll hand it over to you so that I don't have to be embarrassed. 
Me: Yeah, sure you can. I'll be there to help you.
Gr: also please set up an email for me to receive and send proposals for web design.
Step 7

: Setting up a free professional email
So it's pretty easy to set up your professional email with Bluehost. You just have to log in to Bluehost dashboard and click on email options.
Click on "advanced" in the bottom left.
Scroll down to email and click on email accounts.
Click on "create" button.
Type in your preferred email name, for e.g. info, hello, service, care etc… then type your desired password, then tick 100mb storage option and click create. Your professional email which is like "[email protected]@grannycoolwebdesigns.com"  is live now.
Now to login to your email account, go again to bluehost.com
Click on "webmail login" and enter details to see log in to inbox.
Gr: okay! Can I open it on my Gmail?
Me: no, you would have to log in to this email account with Bluehost's official website to check emails, be it on the web or mobile.
Step 8

: Writing your first blog post
In order to write your first blog post. Log in to your WordPress dashboard.
Go to "Posts" button on the sidebar and click on "Add New".
On the next screen, write blog title and blog post and then hit "Publish". You will find more options on the right side box like, categories, tags, featured image, etc. Fill those fields according to your need then click Publish (which will publish the post) or save draft to work on it later.
Click on "view post" to see your published blog/article!
Now you can post more blogs like this! 
Gr: Okay. Now, I think everything's done. Did we leave something?
Me: I don't think so. We finally did it. Kudos! you are now a record holder web developer at this age. 
Gr: You too as well my grandson, I am so proud of you!
*Grandma hugs me*
So this is how I taught my Grandma create websites and now she is a freelance web designer.
6 months later
"GRANNY WEB DESIGN SERVICES" is doing great in her freelance WordPress web designer career but one day to my terror she calls me and says:
"Son, I am tired of making free websites for my friends and shopkeepers around the town, they won't even pay. I want to learn something new!"
And now here I am again in my town to teach something new to my Granny. 
It's not that I am terrified of my Granny but I love my town and my Grandma and I find excuses to go back there! 
__________________________________________xoxoxoxo_______________________________________________
Next articles coming up:
how I taught my grandma to grow her Instagram! (Now she's an influencer)
how I taught my grandma blogging! (Now she's earning 5 figures)
how I taught my grandma copywriting! (She made $83,000 in 7 months)
how I taught my grandma logo/graphic designs! (she now sends better good morning posts) 
Don't miss these value-packed articles, subscribe to my mailing list and receive them directly into your inbox as soon as I launch them.
Affiliate Disclosure: This post contains affiliate links, but I only recommend stuff I personally have used and enjoyed. Clicking my link costs you nothing extra – just gives you a discount and gives me a commission so I can continue to create more free content for you and teach my granny new stuff and also stay longer in my hometown. I truly appreciate your support! 

Love Y'all 🤍      

 -Him Singh
A concept by Him Singh 
(Facebook, Instagram, Linkedin, Pinterest)
Don't have time to read it all? Download pdf version of this post!